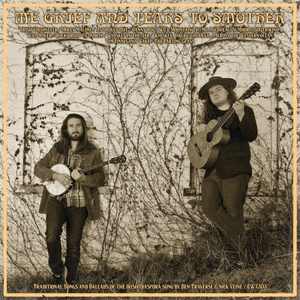 Released 11/3/2023
Catalog: EW7303
Michigan artists Nick Veine and Ben Traverse are preparing to release their full-length collaborative album of Irish music, Me Grief and Tears to Smother: Traditional Songs and Ballads of the Irish Diaspora.

The musical journeys of old friends Nick Veine and Earthwork Music member Ben Traverse have long been intertwined. Both calling Manistee their hometown, Nick, with his award-winning band Awesome Distraction, provided Ben with his first performing experience. The pair went on to explore different parts of the rich tapestry of American music – Nick pursuing jazz in academia and Ben digging deep into the traditions of folk music. This mutual love for music, history, and community gave rise to this new collaborative release.

This album has it all: sweet ballads, raucous drinking songs, and every other manner of song celebrating the historic traditions of Ireland and its expats.

A labor of love, this album was created over the past two years and recorded in various locations– the Earthwork Farm in Lake City, as well as Ben and Nick's homes. Grief was mixed by Nick Veine, produced by Ben and Nick, and mastered at TreeTone Studios in Grand Rapids, MI by Michael Dause (Moss Manor, Treeskin, Shantyland).
Tracklist:

Irish Volunteer
Molly Malone
As I Roved Out
Danny Boy
Wild Mountain Thyme
Sí Bheag, Sí Mhor / Southwind
Wild Rover
Rocky Road to Dublin
Whiskey in the Jar / Whiskey, You're the Devil
Across the Western Ocean
Tim Finnegan's Wake
The Parting Glass